Beachside dining. Iconic locations. Exciting entertainment. Stunning event venues.
St Kilda Venues is proud to present three of arguably the most unique Melbourne hospitality venues on offer.

(03) 8598 9055
1A-1D / 10-18 Jacka Blvd
St Kilda VIC 3182
Republica St Kilda Beach is renowned for its relaxed, chilled out vibe that attracts people from near and far who are drawn to its unique atmosphere and iconic St Kilda Beach location. As one of the key beachside options amongst the St Kilda Venues portfolio, Republica Restaurant and Bar serves up a laid back, yet unmatched beachside dining, drinks and entertainment option.

(03) 8534 8999
10/18 Jacka Blvd
St Kilda VIC 3182
Captain Baxter at St Kilda Beach is a must see. This classic Melbourne beachside restaurant and bar presents a new era in Melbourne dining and entertainment. With unparalleled views extending over St Kilda Beach, Captain Baxter offers sophistication and socialisation at its finest.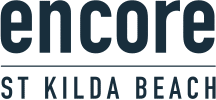 (03) 9593 9033
10/18 Jacka Blvd
St Kilda VIC 3182
Perfectly placed by Melbourne's iconic St Kilda Beach, Encore is a modern waterfront weddings and events venue boasting spectacular views over Port Phillip Bay.
A resplendent choice for elegant beachside weddings and for dynamic events, Encore St Kilda offers versatile modern interiors, stylishly curated packages, and a spectacular rooftop terrace for outdoor events and ceremonies in summer.